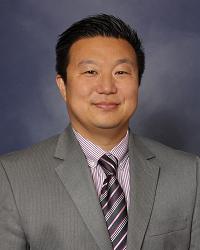 On Tuesday, April 20, 2021, the San Bernardino County Board of Supervisors appointed interim Public Defender Thomas Sone to serve as the county's new Public Defender.
Sone has served as interim Public Defender since December 2020 and previously served as Assistant Public Defender. He joined the Public Defender's Office in 2001 after briefly working for a private law firm in Los Angeles. After working his way up to the position of Lead Deputy Public Defender V, he was named Chief Deputy Public Defender in 2013 and Assistant Public Defender in 2018.
Along the way, Sone litigated serious and complex felony cases, trained and mentored newer attorneys, assigned cases, participated in community programs, and collaborated with various agencies to develop programs that better deliver services to our community.
"The Public Defender's Office and this county hold a very special place in my heart," Sone said. "For the past 20 years within the department, I've grown not just professionally but also as a person. Both the leadership of this department as well as this county have shaped who I've become. I am humbled and honored by the appointment."
Sone is the county's first Asian American and Pacific Islander Public Defender. He received his juris doctor from the University of San Diego School of Law and holds two bachelor's degrees from Washington State University. He is also a graduate of the San Bernardino County Management and Leadership Academy.